If you have atopic dermatitis (AD), you know a dry, itchy, red rash on your hands, arms, legs or other parts of the body is a part of daily life. AD is an allergic condition and the most common type of eczema.
More than 18 million Americans of all ages have AD. The severity of AD can be different for each person and does not depend on when you developed the disease. However, AAFA's recent study titled Atopic Dermatitis in America found that people with adult- and late childhood-onset AD reported the disease has a greater burden on their quality of life than those with early childhood-onset AD. People with late-onset AD also said they experienced more symptoms of depression than those with early-onset AD.
Eczema Tip:
Since eczema causes defects in your skin's barrier, how you bathe can make a big difference in your symptoms. Using water that is too hot, staying in the water too long and using harsh soaps can irritate your skin. Instead, use lukewarm water. Limit your time in the bath or shower. Don't scrub your skin. And moisturize within 3 minutes of bathing.

No matter your age, moisturizing and knowing what triggers your eczema is important to managing the condition and finding relief. Common triggers include:

Allergens

Soaps

Household cleaners

Metals

Perfumes

Rubber products

Dyes and formaldehyde

Stress
Flare-ups can be frustrating and painful. While AD is an allergic condition, antihistamines generally do not help. AD can be treated with over-the-counter or prescription topical treatments (such as corticosteroid ointment) to reduce inflammation. There are also some oral medicines or biologics your doctor can prescribe.
The goal of treating AD is to relieve pain and itching and prevent infections. If your AD becomes warm to the touch or develops blisters, talk to your doctor.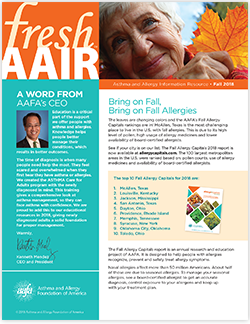 Sign up for our FREE asthma and allergy magazine – freshAAIR™! Get the latest on asthma, allergies, eczema, food allergies and more, as well as news about AAFA.
Read online or have it delivered to your mailbox.