National Eosinophil Awareness Week is May 14-20, 2023. The purpose of this week is to raise awareness and educate about eosinophil-associated diseases.
One of these diseases is eosinophilic esophagitis (EoE). EoE is a chronic inflammatory condition of the esophagus (the tube that connects the mouth to the stomach). EoE happens when a large number of white blood cells called eosinophils [EE-oh-sin-oh-FILLS] collect and cause damage in the lining of the esophagus. It is often an immune response to food, but in some cases, environmental pollen can also trigger EoE. The inflammation caused by the eosinophils damages the surrounding tissue. Left untreated, EoE may cause the esophagus to narrow, contributing to food impactions (food getting stuck in the throat).

To raise awareness during National Eosinophil Awareness Week, the Asthma and Allergy Foundation of America (AAFA) has released two EoE resources:
Life with EoE: The Patient Experience and Opportunities to Improve Care in the U.S. Report
AAFA and the American Partnership for Eosinophilic Disorders (APFED) published a new report called Life with EoE: The Patient Experience and Opportunities to Improve Care in the U.S. The report highlights the current state of EoE care in the United States. This includes challenges and barriers to timely diagnosis, quality medical care, effective treatments, and access to resources for EoE. These challenges also present opportunities to address the unmet needs and improve future care for people living with EoE in the United States.
The new report is the result of a multi-component needs assessment of EoE. Data were collected through social listening of peer-to-peer discussions, one-on-one interviews with EoE patients and caregivers, a survey of EoE patients and caregivers, and a survey of health care providers who treat people with EoE. This study aimed to:
Understand the current state of EoE care in the U.S.
Understand the patient journey for EoE
Understand health care providers' awareness of and practice around EoE
Identify unmet needs for EoE patients and family members
Identify unmet needs for health care providers caring for EoE patients


Key findings from the report include:
Many patients experience delays in diagnosis for EoE, leading to delayed symptom relief, clinical care, and treatment. Challenges to timely and accurate diagnosis include having to see multiple doctors before finding one knowledgeable in EoE, experiencing initial misdiagnoses, not recognizing symptoms as indicative of an underlying condition, and doctors dismissing symptoms.


Signs and symptoms of EoE are not well-understood and mimic many other diseases, further delaying EoE diagnosis. Lack of awareness of EoE symptoms among patients/caregivers and HCPs is a key driver of delayed diagnosis.


Multidisciplinary care teams are common for EoE management. Two thirds of patients/caregivers reported seeing more than one type of doctor for EoE, and HCPs reported high levels of collaboration with other doctors.


Limited options in FDA-approved treatments for EoE lead to frustration and challenges. Elimination diets, PPI, and topical steroids were commonly-used treatments for EoE, but patients/caregivers and HCPs reported concerns and challenges with all treatments.
Adherence to treatment plans—particularly dietary therapies—poses the greatest challenge in managing EoE.


EoE has a significant impact on social and emotional well-being, with a majority of health care providers saying their patients with EoE typically experience anxiety and/or depression more than once a year.


Patients/caregivers and HCPs acknowledge a greater need for support and resources for EoE, including comprehensive resources that cover a broad range of experiences.


AAFA and APFED hope this new report will serve to highlight the EoE patient voice and inspire action from key EoE stakeholders, such as health care providers, payers, pharmaceutical companies, legislators, and others to address unmet needs for EoE patients and caregivers.
Download, print, and share the report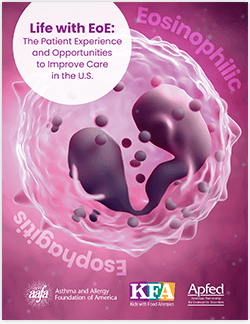 Your Guide to Managing Eosinophilic Esophagitis (EoE)
EoE can be a complex condition to manage. AAFA and our food allergy division, Kids with Food Allergies (KFA), have created a guide called Your Guide to Managing Eosinophilic Esophagitis (EoE) to help you understand the basics of EoE and how to manage it. This guide covers:
What EoE is
Signs and symptoms in infants, children, and adults
How EoE is diagnosed
How EoE is treated
Ways to manage the impact of EoE on your quality of life
How to find support
The Life with EoE report and Your Guide to Managing Eosinophilic Esophagitis (EoE) were developed independently by the Asthma and Allergy Foundation of America and made possible by support from Sanofi and Regeneron.
Stay up to date on the latest asthma and allergy news and research by joining the AAFA community. We'll also let you know about ways you can participate in research and advocate for policies to help people with asthma and allergies. You'll also be able to connect with other people managing asthma and allergies for support.