Shop Our Online Store to Spread the Word About Asthma and Allergy Awareness
Nearly 24 million Americans have asthma. And more than 50 million have allergies. So chances are you or someone you know has an allergic disease. The best way to support people with these diseases is by helping everyone understand them better.
Each year, the Asthma and Allergy Foundation of America (AAFA) declares May to be "National Asthma and Allergy Awareness Month." It's a perfect time to educate your family, friends, co-workers and others about these diseases.
Order by April 18 to ensure you will receive your Awareness gear in time. Your purchase helps us continue our mission to improve the quality of life for those affected by asthma, allergies and food allergies.
Show You're an Asthma Warrior
Raise awareness about asthma and allergies with an Asthma Warrior T-shirt and a teal silicone awareness bracelet. These are a great way to start conversations with others about these diseases.
Carry Your Medicine In Style
It's important to carry your emergency asthma and allergy medicines everywhere you go. We offer medicine bags in different sizes to help you remember to take them with you. Each bag is made of neoprene and has a zippered closure to keep your medicine secure.

Share Asthma and Allergy Information
Help others understand what it's like to live with asthma and allergies. Share some of AAFA's educational handouts. These are all available as free downloadable PDF's. Some are available as printed books for a small cost.
Your Guide To Managing Asthma
Were you recently diagnosed with asthma? Or would you like to know more about managing your asthma? We created this guide to help you know more about this chronic disease and how to keep it under control.
Ally & Andy's Asthma and Allergy Activity Book
This coloring and activity book gives children and families a basic understanding of asthma and food allergies. It is a fun way for children to learn common asthma triggers. It also helps them learn how to manage their asthma and food allergies. It has word finds, crossword puzzles, word scrambles, mazes and other activities. It also has a story to read and color and a list of websites on asthma and allergies for parents and kids.
Tackle Asthma Playbook
AAFA partnered with running back and Dancing with the Stars winner Rashad Jennings to create this game plan to help you exercise and stay healthy with asthma. Follow these steps to stay ahead of your asthma and stay active.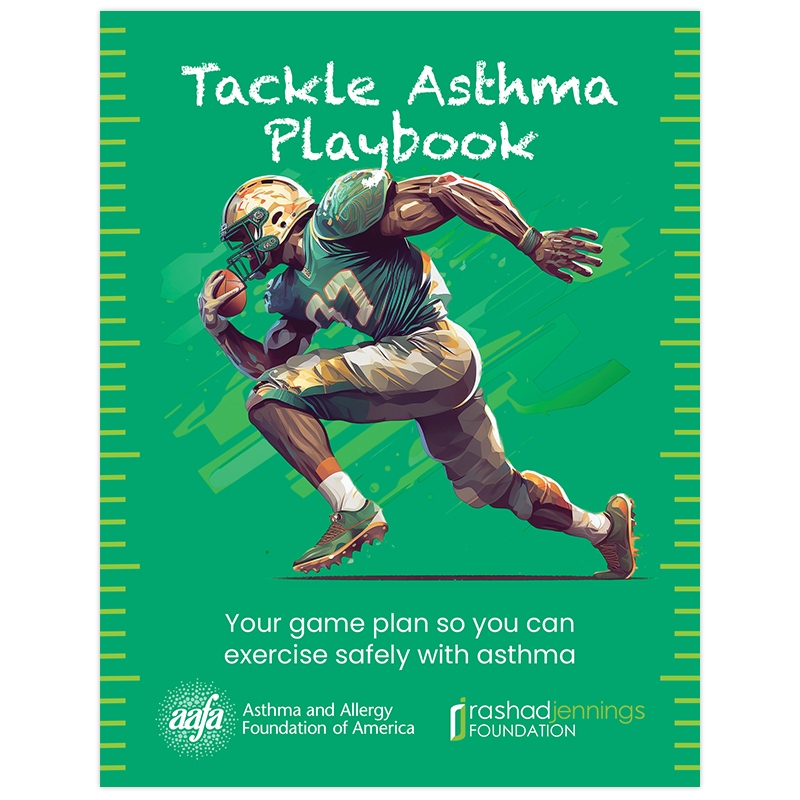 Your gift can save lives.
When you purchase gifts from our online store, the proceeds help us continue to work to educate, advocate and support research that will allow those with asthma and allergies to have better health and quality of life. There is no cure for asthma, but AAFA provides the practical support that gets families through each day.