The health of your home can affect your personal health. June is National Healthy Homes Month, led by the Office of Lead Hazard Control and Healthy Homes (OLHCHH) at the U.S. Department of Housing and Urban Development (HUD).
This year's theme is "Connecting Home, Health, and YOU." Each week will have its own focus:
Week 1 – Healthy Homes Investments Make Local Impacts
Week 2 – Housing Performance, Home Maintenance, and Remodeling Professionals' Role in Healthy Homes
Week 3 – Solving Public Health Challenges with Healthy Homes Solutions
Week 4 – Caregivers and Home Occupants Take Action for Healthy Homes


You can read more about each theme on HUD's National Healthy Homes Month website.
All month, the Asthma and Allergy Foundation of America (AAFA) joins with HUD and OLHCHH to help raise awareness about ways to make your home healthier, especially for people with asthma and allergies.
Why Is It Important to Have a Healthy Home?
There are many factors that can affect your home's health. Mold from a leaky roof or lead from old paint are some examples. When you have asthma or allergies, triggers and allergens in your home – such as dust, pests, and mold – can cause asthma and allergy symptoms. In the U.S., people spend about 90% of their time indoors, whether at school, home, or in the workplace.1 Reducing your exposure to your triggers is an important part of managing your asthma and allergies.
How Does AAFA Advocate for Healthy Homes?
Week 1 of National Healthy Homes Month focuses on making local impacts by working together "to improve the health and safety of housing, especially in disadvantaged communities." The quality of housing is a major factor in asthma disparities in the United States. Families living in low-income housing are more likely to be exposed to harmful asthma triggers and are at a greater risk of having severe asthma. These families often lack the resources to address health issues in the home.
AAFA advocates for state and federal policies that promote healthy settings for people with asthma or allergies in various settings, including in rental and low-income housing. We also support reimbursement for preventative services and home assessments that provide asthma education for people with severe asthma.
AAFA is a member of several coalitions that support improving housing on a national and community level, including the National Safe and Healthy Housing Coalition (NSHHC), DC Healthy Housing Collaborative (DCHHS), and California Asthma Financing Workgroup.
How Can I Make My Home Healthier?
AAFA offers various resources to help improve your indoor environment.
AAFA's Healthy Settings webpage offers a list of resources and services to promote healthier environments in a variety of settings. If you are a homeowner or renter, the Healthy Housing section of the webpage provides tools, guides, and local and national resources to help make your home healthier.
AAFA's asthma & allergy friendly® Certification Program helps you make informed decisions on products that can help reduce your exposure to asthma triggers and allergens. When you are shopping for products for your home, look for the CERTIFIED asthma & allergy friendly® mark. It indicates the product has passed our testing standards. Visit aafa.org/certified to search for CERTIFIED products. There you can also learn more about the program.
AAFA's Healthier Home Checklist is a great tool to help you reduce asthma and allergy triggers in your home. The interactive tool shows you how to tackle these triggers in each room in your home.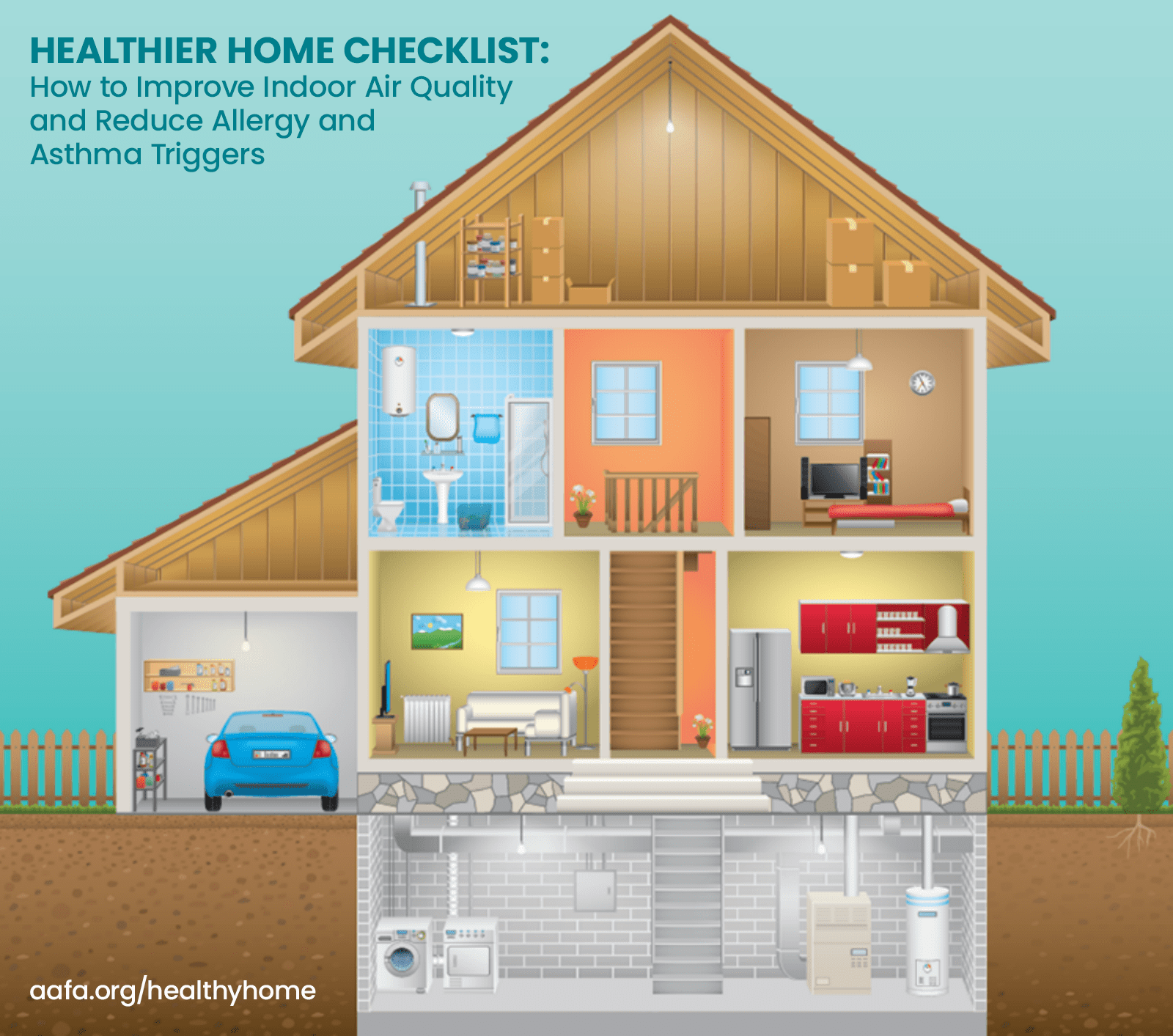 Here are more resources about making your indoor air healthier:
Looking for more ways to make your home healthier and reduce your exposure to asthma and allergy triggers? Join our community and follow our blog to get more information all month on how you can have a healthier home.
References
1. Environmental Protection Agency. Questions about your Community: Indoor Air. http://www.epa.gov/region1/communities/indoorair.html