Biologics are targeted therapies made from living organisms or natural sources. Biologic therapy involves injections every few weeks or so that are tailored to the individual. Biologics help normalize your immune system by controlling immune responses that lead to inflammation. There are biologic treatments available for people with moderate-to-severe asthma or atopic dermatitis (eczema).
If you've tried treatments without success, consider asking your doctor about biologics and whether one of these therapies are right for you.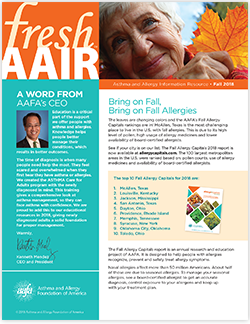 Sign up for our FREE asthma and allergy magazine – freshAAIR™! Get the latest on asthma, allergies, eczema, food allergies and more, as well as news about AAFA.
Read online or have it delivered to your mailbox.